as shared by
ADA National Network
and
Pacific ADA Center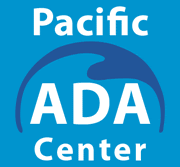 Announcing a new webinar - "ADA National Network Learning Session: Inclusive Emergency Planning – Lessons from the City of Los Angeles Lawsuit"
December 11th, 2014
Webinars begin at
2.30pm ET
/1.30pm CT/12.30 pm MT/11.30am PT/9.30am Hawaii.
This webinar provides an overview of major lessons observed as The City of Los Angeles works to strengthen its inclusion of people with disabilities and others with access and functional needs in Executive Directives, Emergency Operations Plan, departmental standard operating procedures and training. Focus will include planning processes, roles and responsibilities, resource management, agreements, community stakeholder integration, other tools for success. Examples will be provided regarding communication, mass care and sheltering, evacuation, and maintaining health.
Presenter:
Kari Tatro. Kari Tatro is the Executive Vice President of Emergency Management Operations for BCFS HHS, an international system of nonprofit corporations. Ms. Tatro manages a comprehensive emergency management program for all hazards planning, preparedness, response and recovery operations, with specific emphasis on Emergency Support Functions 6 and 8, including mass care, medical needs operations, and functional needs support services. She has functioned as command staff for multiple catastrophic incident responses including Hurricanes Dolly, Gustav and Ike, served as the executive manager and subject matter expert responsible for developing the FEMA document and curriculum on integrating Functional Need Support Services (FNSS) into general population sheltering, published in 2010. Ms. Tatro started her career as a wild land fire fighter for the United States Forest Service before moving into a position working for the State of Texas coordinating emergency management activities for 16 counties.
These 90 minute webinars are delivered using the Blackboard Collaborate webinar platform. Collaborate downloads files to your machine in order to run. We recommend that you prepare your technology prior to the start of the session. You may need the assistance of your IT Staff if firewalls prevent you from downloading files.
Copyright © 2014 Pacific ADA Center, All rights reserved.