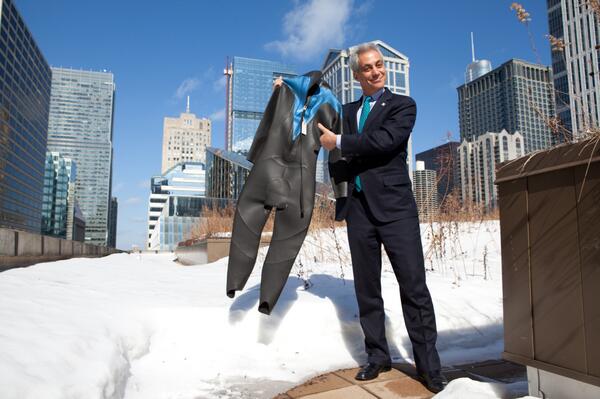 Jimmy Fallon didn't get cold feet after Mayor Emanuel challenged him to take the plunge.
By Mick Swasko | Chicago Redeye | Feb 24, 2014
Jimmy Fallon tweeted Monday that he'd accepted the Mayor's challenge to take the Polar Plunge, which occurs Sunday and benefits Special Olympics Illinois. It all began Feb. 19, when Fallon said Emanuel has an open invitation to appear on his new "Tonight Show" because he's "scared" of the mayor.
In response, Emanuel said he'd agree, under the condition that Fallon join him in the Polar Plunge March 2. Fallon initially worried in a tweet that it was a "set up," to which Emanuel responded that the "city of big shoulders" would have his back.
Both Fallon and Emanuel continued to trade tweets on the topic, using #swimmyfallon and #jimmyplungewithus during the exchange.
Read more at http://www.redeyechicago.com/news/redeye-jimmy-fallon-polar-plunge-with-rahm-emanuel-20140224,0,7428512.story#9iv6fRPfP2Lt5xAk.99